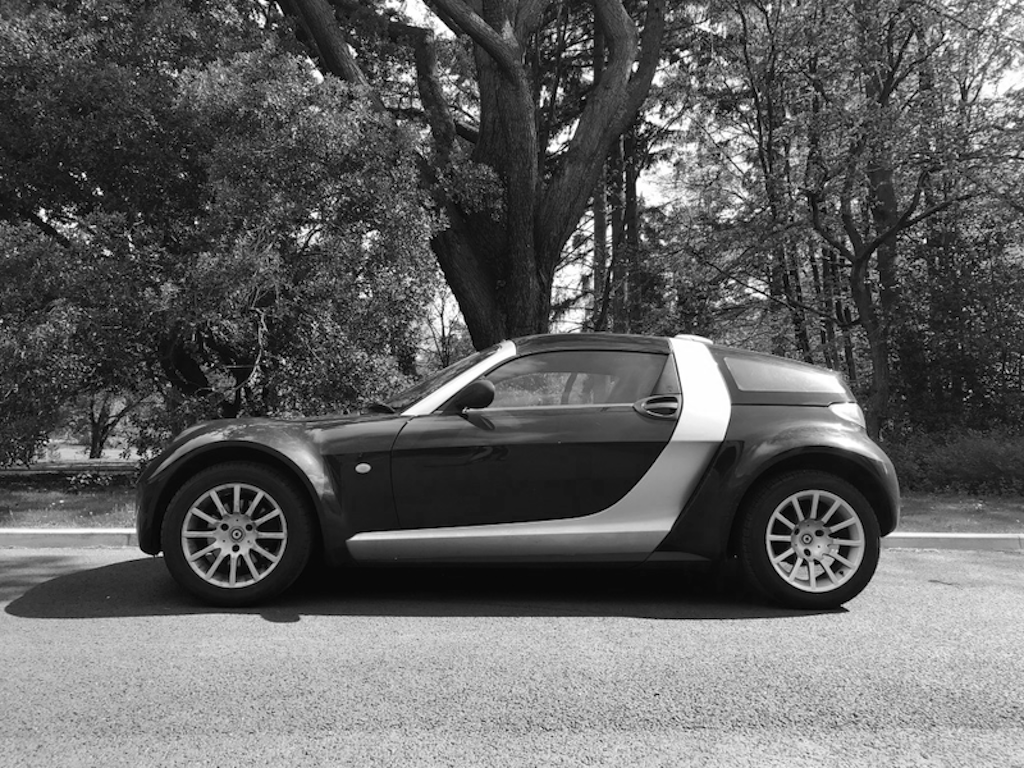 The Smart Roadster (W452) is a two-door, two-seater sports car first introduced in 2003 by Smart GmbH.
The Smart Roadster and Roadster Coupé were introduced in 2003, based on a stretched platform of the Fortwo with a full length of 3427 mm. Both the Roadster and Roadster Coupé were available with a removable Targa roof or an electrical softtop. The Roadster is powered by 45 or 60 kW (61 or 82 PS) versions of the turbocharged 698cc 3-cylinder Suprex engine in the rear, which is engineered by Mercedes-Benz. The Roadster Coupé has only the more powerful 60 kW (82 PS; 80 hp) engine. A steering wheel with Formula 1-style gear-paddles, to control the semi-automatic sequential transmission, is optional. Weighing as little as 790 kg (1,742 lb), the Roadster is intended to provide the emotion of driving a sports car at an affordable cost.
Both the Roadster and Roadster Coupé are available in Brabus-tuned versions with power increased to 74 kW (101 PS; 99 hp). The Brabus versions have a different twin sports exhaust, lower suspension, polished six-spoke aluminum alloy Monoblock VI 17" wheels (205/40 ZR17 at the front and 225/35 ZR17 at the rear), front spoiler, side skirts and radiator grille. Exclusive Brabus (Xclusive) interior includes leather trimmed dashboard, alloy-effect accent parts, instrument graphics, leather/aluminium gear-knob with Brabus labelled starter button, aluminium handbrake handle, aluminium pedals and Brabus labelled floor mats. The Brabus version also features stronger clamping of the clutch plates and a faster gear-change. The Monoblock wheels are known to be very soft and as a result are very easy to buckle. The lacquer on these wheels is also very poor, and corrosion can occur very early in the life of the wheel.
Despite a projected break even of only 8-10,000 units per year, first year sales almost doubled this estimate. Influential British motoring television show and magazine Top Gear praised the Roadster, awarding it Fun Car Of The Year for 2005. 43,091 Roadsters were built and put on the shop fronts, with chassis numbers ranging from 00,001 to around 43,400.
This site has been created by SteveK.
Use my Contact Form if you have any more information that I could publish here about these Smart Roadster's. Thank you.